By Kimball Taylor
ESPN Action Sports
"I like being goofy," says 21 year-old phenom Craig Anderson -- and he should, because up till now, the right-foot-forward stance has treated him pretty dam well. His compact yet explosive "extra" section in Modern Collective, during which he combines an uber-casual style with radical reverses, has made him an overnight sensation. By the time this column gets half-stale, he'll have been profiled by every major surf mag on the globe. In the mean time, he's been filming with star-builder Taylor Steele for Castles in the Sky, sure to be another feather in his cap.
So goofy is great. The only hitch is, competitive goofy-footers have had a pretty rough go of it over the past decade. There hasn't been a screw-foot champion since C.J. Hobgood ran away with 2001's shortened season. Of course, Occy received his lifetime achievement award in the form of a 1999 title, but you'd have to stretch back another six years to the next goofy champ, Derek Ho. Competitively, goofy-foot success is like searching out the next Dali Lama, a lifetime in the making. As of this writing, only two of the top ten surfers on the WCT, Jadson Andre (4) and Bobby Martinez (6), could be construed as un-natural.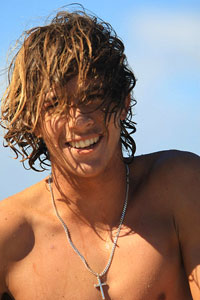 The state of things recently caused a debate between Anderson, his traveling partner Ry Craike (another amazing goofy-footer) and Matt Hoy, the early '90s tour vet. Hoyo claimed that the Dream Tour, with lefts like Teahupoo, Pipeline, and formerly, Mundaka and Cloudbreak, had practically been set up for goofy footers. But here's the rub, Ando and Craike pointed out, all of those lefts are heavy, the last ten years has seen natural-footers' backside barrel-riding skills sky rocket, and the judges have been scoring the ol' pigdog with a heavy hand. What's worse, Australian Surfing Life recently went so far as to call frontside tube riding "a dinosaur of surfing style." Combine this with God's gift to regular-footers, Kelly Slater, and the last ten years in the stance wars could have written itself.
For goofy-footers, this leaves mere free-surfing prowess and style, qualities the young Ando is just oozing with. Fellow countryman and screw-foot Travis Logie recently said, "He's amazing in sh--ty waves and perfect waves, his style is really unique and mirrors how he is on land -- super relaxed and creative with a sh-t load of personality."
Comparisons to the other big-haired goofy-footer, Rob Machado, have been plentifully, but they bristle Ando a bit. "It trips me out when people say that," he says. "I don't want to compare myself to others." He does suggest that maybe the Machado comparison is due to his barrel stance. But that, he hopes, is due to his appreciation of the even older school Pipe chargers he frothed over as a kid.
Anderson grew up in Port Elizabeth, South Africa, only about a 45-minute drive from Jeffrey's Bay. The family would make the trek to J-Bay on the odd weekend, but most of the time Anderson surfed the beach break out front. He credits the foundation of his style to a crappy board his father forced him to ride. "It was this chunky tri-fin. I wanted a new board so bad, and my Dad had the money for it, but he just said, 'Nah, you'll ride this one.' In the end, I think he was right. That board forced me to draw out turns more and make me take it easy."
As Logie said, "Craig is a master at making it look easier then it is." But competitively, this can be a problem. A coach once told Anderson that if he wanted bigger scores for the radical maneuvers he was landing, he'd have to make it look like he was "trying."
"Claiming waves and that dramatic arm stuff," says Anderson, "is all so lame. I won't do it, and if the judges don't like it, they can . . . whatever."
This year Ando got a taste of that "whatever" during a wildcard entry into the Quiksilver Pro on the Goldie. He was, in fact, shunted aside by vet Bobby Martinez in the losers round.
But at 21, Anderson is pretty satisfied to be traveling and filming with world-class surfers. He's claimed that he won't turn down a trip, and lately, finding a good one to go on hasn't been tough.
Anderson figures free surfing now, and maybe take a crack at the tour is a good bet strategically, too. "I think with the universal points system, competitive surfing is going through a rocky patch." He's hoping that when he's ready for it, the Dream Tour will have righted itself, and added a couple of high-performance lefts -- Anderson's hoping for Macaronis, for example.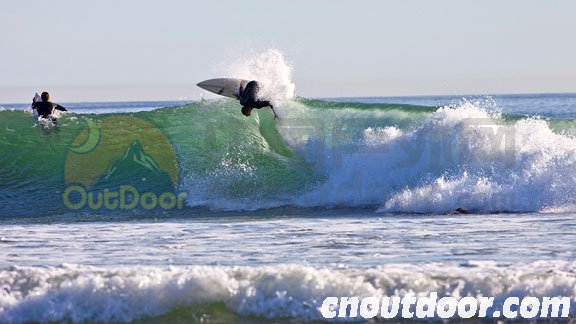 Nothing goofy about an under-the-lip smash like this.