Just after he crossed the finish line of the Paris-Roubaix cycle race on Sunday, the winner, Johan van Summeren, embraced his girlfriend. So passionate was the clinch, the 30-year-old Belgian decided on the spot to propose.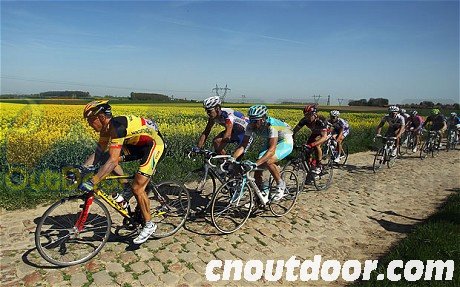 I
t seemed an appropriate time for such a gesture. When you have just triumphed in the most gruelling, gruesome, life-and-limb-threatening event in the calendar, nothing holds much fear. Not even the prospect of marriage.
I have never before witnessed a sporting occasion that extracts quite such a physical and mental price from its participants as the race known as the Hell of the North. Watching it unfold for the first time was to be initiated into a new order of sadism. Compared to this race's ferocious toll, Sunday's London Marathon constitutes a stroll among the daffodils.
When he had concluded its 258km length, Team Sky rider Bradley Wiggins, his shirt torn, his knees scuffed, his face blackened with dust giving the appearance of someone clocking off at Armthorpe colliery, had the sort of look in his eyes shared only by those who have just gone 12 rounds with David Hay.
Since it does not include anything that might be described as a mountain, 258km doesn't sound too bad. And I can confirm it is easy by car. But what saps the will from the strongest competitor is that 108 of those kilometres are cobbled. Not nice little British cobbles, either, but big, ugly French things, preserved largely to maintain the race's sadistic continuity.
Just walking over them is to invite a turned ankle. To cycle them is to have your fillings loosened, your joints battered, your muscles shaken to the edge of destruction. In fact, the most remarkable thing about watching the peloton rattle by was how the riders' buttocks vibrated. Unlike fast bowlers, cyclists are rarely distinguished by the scale of their backsides. But riding on the cobbles, their rear end became their most eye-drawing feature as it jiggled around like Elvis's trousers.